Info from steam "From now on, you've 8 classes to develop by doing certain jobs, and 3 skills in each of them to level up with the skill points. Let us know what you think of the balance and time needed to get higher levels and what else could be improved there (like requirements to unlock certain skills and classes)."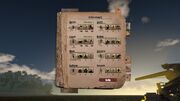 Special: the 6th sense
[
]
For new players, or to find some material spots in dark night (or in caves when you are out of light), press ALT to activate your 6th sense and enlight all ressources to collect around.
Hunter
[
]
- Increase melee damage against animals by x %
-Increase range damage against animals by x %
-Gives x% chance to gather 50% more ressources from animals
Logger
[
]
- Gives x% of chances to increase ressources gaines by trees (30%)
- Increases chances for greater amount of ressources in trees by x%
- Gives x% of chance to maintain tool durability
Miner
[
]
-- Gives x% chance to increase ressources gained from rocks by 50%
- Gives x% chance to increase ressources gained from ores by 50%
- Gives x% chance for maintaining tool durability
Gatherer
[
]
-Gives x% of chances to increase ressources gained from plants and herbs by 50%
- Gives x% of chances to gather additional seeds
- Decreases time needed for plants to grow in pots and fields by x%
Smith
[
]
- Gives x% chances to decrease cost of crafting by 30%
- Increases durability of crafted equipment by x%
- Gives x% chance to decrease repair cost by 30%
Builder
[
]
- Gives possibility to upgrade Builder's Desk to level x
- Gives x% chance to decrease building cost by 30%
- Gives x% chance to decrease building repair by 30%
Survivor
[
]
- Decreases costs of action that requires stamina by x %
- Increases time to become hungry by x%
- Decreases costs of stamina while smming by x%
Assassin
[
]
- Increases melee damages against players by x%
- Increases range damages against players by x%
- Decreases damages taken by x%