Online modes: Official and private servers
[
]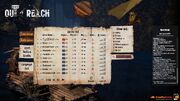 PVE servers: structure destruction and player attacking not allowed (but siege weapons can be crafted). Builder's Desk Required. 10 max per player/server. Green icons in the list of servers.
STD servers: Structure destruction and player attacking allowed on standard servers. Base can be burnt (using Pile and Torch) only after time protection has expired when the builder's desk has been destroyed (and if the owner hasn't reactivate it). On those servers, you can easily play in PVP environment when you are alone and/or without possibility to be online 3 hours a day. If your desk is upgraded, you won't lose your entire base in a night (time protection up to 3 days). 10 max per player by server![/b] Orange icons in the list of servers.
PVP servers (gatherable x5): same rules but resources x5 and Time protection on desk up to 15min maximum. Red icons in the list of servers
Dedicated Server
[
]
To use the dedicated server tool please refer to https://outofreach.gamepedia.com/Dedicated_Servers_Installation
Single Player mode
[
]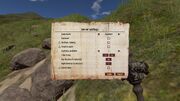 On windows and with 6GB: possibility to play on Local Server. Internet connection not required. This is not a story mode, same features that you can find online (build, craft, fight NPC's etc) with possibility to choose server settings (and activate creative and god modes)
If the local server doesn't start using the button in main menu, execute manually /steam/steamapps/common/OutofReach/server/SF2X/sf2sx-standalone wait for the initialization and then click on "Local Server" in main menu.